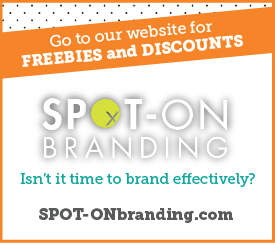 Branding Challenge Series
While driving the other day, I noticed a billboard that said, "What have you done for your marriage lately?"  Though I've been happily married for almost 15 years now, I still took some time to ponder the question.  After all, it's important to step back from your partnerships once and awhile to truly be sure that you're making good decisions together and that everyone is on the same page.
This, of course, led me to think about my other "marriage" – and by that I mean my devotion and dedication to my own company.  I've talked about it many times before: regularly accessing your brand's value and relevance to your target market is an ongoing process.
My brand identity continues to grow better and stronger, especially since I've recently taken my own advice and put a lot of thought and time into improving my brand.  Like many business owners, I've had a hard time evaluating my brand, simply because, well, it's mine – I'm just too close to my company.  Even though I'm a branding professional, it's still hard to take a step back sometimes.
What Have I Done for my Brand Lately?
I'm in the process of giving my business and my brand a makeover.  (You may have noticed the new header graphic to this blog?)  My old brand was stale and it no longer reflects who I am today.  My old brand didn't exude the impression I wanted the to show to the world.  My brand needed a facelift.
So, I'm happy to say that I've finally come up with my new company name!  (Spot-On Branding.) And, after much deliberation, I've finally come up with a logo as well.  But I'm still experimenting with different colors.  I've also been preoccupied with my newly launched website; I want to get it just right, but I'm also not totally done with it, yet.
Most importantly, I'm ok with this!  Brand improvement is a process.  So it's always better to be moving in the right direction, rather than remaining stagnant and running the risk of drifting further from your target audience.
What Have YOU Done for YOUR Brand Lately?
I dared to ask myself  – "What have I done for my brand lately?" – and you should do the same!  If you haven't asked yourself this question in awhile – there's no time like the present to spruce up, or even completely rethink or revamp your company branding.
Reevaluating your brand is important!  You must continuously assess your brand's relevance, reach and radiation into your target market.  If your brand is falling short, it's going to hurt your company in the long run.
Brand (Re)Evaluation Isn't an Event – It's an Ongoing Process
Even the little things can greatly affect how your brand is carrying your company message to your target audience.  Keep in mind that great brands are consistent.  Consistency is key and you are your brand – so keep this in mind when you're interacting with your target audience, in any medium.
Consistency means:
Always giving the right impression, online or in person
Commenting on other relevant industry and target market blogs
Regularly responding to comments posted to your own blog
Updating your blog regularly!
Updating your social media status(es) regularly, as well as joining in on the conversation
Keeping your website and your information up-to-date
Regularly networking on and offline
Having all your collateral pieces (online and offline) using the same colors, fonts and other graphics the same
Not sure where to start?
Ask other trusted professionals (or ideal client) their impression of your logo
Experiment with new brand colors
Engage a branding professional to explore a new look and feel for your brand
Update your About Me or About the Company page on your website
Design a new social media launch plan or e-newsletter
The point is, you can start anywhere, but you should actually start!  Remember: brand improvement is an on-going process, so there's no time like the present to improve your brand and reach your target market like never before.